We have so many styles of body art to offer!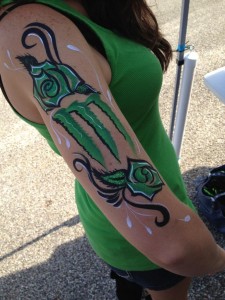 At Wild Style Design Company we offer:
Face Painting
Tribal & Body Art Graffiti
Henna Tattoos
Cosmetic Glitter Diva Designs
C.A.B. – Commercialized Advertising BodyArt
Special FX & Theater Make Up
Cosmetic Make Up
Cosmetic & Air Brush Artistry
Perfect for:
School Carnivals & Events
Birthday / Event Celebrations
Sporting & Running Events
Church VBS & Events
Fund-Raising & Awareness Events
Library Programs
Business Grand Openings
Corporate Employee Picnics
Customer Appreciation Events
Festivals & Fairs
Bridal / Baby Showers
Bachelorette Parties
Photoshoots & Advertising
Promotional & Marketing Material
Night Club Events
Ladies Nights In / Out
Proms / Bridal / Special Events
Special FX for Unique Events & Theatrical Productions
AND MORE….
We want to bring SMILES to your next event!
Call or e-mail TODAY to reserve your date!