Last Saturday, March 24th, we painted together at a Craft Show. The show was at Washington Gifted Middle School in Peoria, IL and Holly, the Event Coordinator did a beautiful job! This was the very first year for the fundraiser, done to benefit the volleyball team, and we were amazed at the detailed planning that went into the day. Holly had scheduled a fashion show from Macy's, breathtaking solos from the honors orchestra kids that blew us away, a story teller and author, and a meet and greet with the Easter Bunny…
The volleyball team took great care of the vendors, even delivering a super-yummy complimentary lunch to our booth, and checked on us regularly. Hats off to Holly and the volunteers and team for all of their efforts!
There were a few complaints that day about the thin crowd at times, but it was a beautiful day and there was tons going on around town!
It's easy to be discouraged as a retail vendor when you don't see the money that you plan on… HOWEVER, we found blessings that we were MUCH more thankful for that came in the form of happy kids thrilled with their faces, invaluable contacts that will bless our business for years, and the start of precious relationships and colaborations we hope will last for years to come!
Here are a few pics from the event, highlighting some of our favorite faces and sweetest little kids around! Hope you enjoy!
Brother and Sister Kitty Cat and Puppy Dog! The little guys are LOVING the Puppy Dog face!
Sweet cousins… painted by Shelly, co-owner of Wild Style Design Company…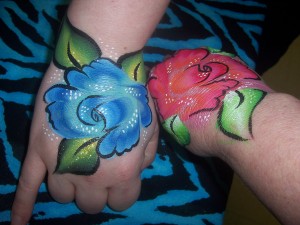 Matching roses – one painted by each of us on a mother and daughter…
That's all I have for now, check back in from time to time for updates, and keep an eye out for some exciting news that will drop very soon! We will update our blog with our events this weekend so you can come out and get your face painted… Have a great week, we are so thankful for our clients!
Before you go, we invite you to subscribe to our blog over on the right side of the home page… This will keep you in the loop with our latest news and appearances! Thanks again!