Trying to cover all the news today 🙂
Last Saturday, we were privileged to paint at the Missfits home bout against the Cupquakes. I have never see roller derby before, and honestly? LOVED IT! The women were amazing, the crowd was a blast, and I would return anytime they would have me… So thank you to the McLean County Missfits. We think the charity work you do is astounding, and we think you are amazing women! Check out the work from that night… These are some of our "Bad and Bold" Eye Designs… The customer picks the color and size… We do the rest of the work – and the women LOVE it! We are very proud being pioneers to the area in this style of Adult painting, and look forward to painting all of our friends we meet this summer across the state!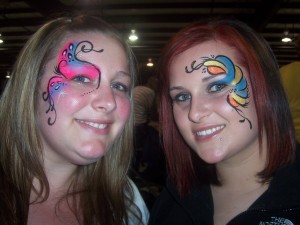 Next order of business… and a bit related… We were set up next to The Glitter Fairies at the Derby. What great girls! Jen and Barb are such kindred spirits, as they make it a point to connect with their customers the same way we do. Their work is beautiful, and we think the camaraderie in this industry is completely necessary. It's so rewarding to build relationships through this business… and just to give you a little teaser… Keep you eyes peeled this Summer for something amazing! We will be collaborating with each other soon, and you guys will go bananas! Trust me… and look for more info closer to next month…
Finally… Wild Style will be a part of several March of Dimes events this month… Peoria and Bloomington's March for Babies the last full weekend of April. For now though, we are most exciting about supporting a family from our own community. Abby Hammer and Mo Phillips lost their little premature twin angels recently. There is a benefit that has been put together at the Clinton Eagles, and it sounds like it is going to be great! We will be painting as long as they can have us – to support Sophie and Sage, their families, and the March of Dimes team/organization. It's opportunities like this to "give back" that are almost breath-taking, they are so humbling. I will update more after the weekend, about the event and what we were able to raise for the families… But for now, just want to thank you all ahead of time for allowing us to help, and want to encourage all of our readers to please take a minute and check out their site below. We will begin painting for the 2 pm Easter Egg Hunt tomorrow 4/7/2012… and paint at the benefit from 3 pm until there is no more work for us to do.
Check out our new friends' websites… and please take some time considering a gift to Team Sophie and Sage.
http://www.mcleancountymissfits.org/