NAME:  Kara
TITLE: Kara requested the title "Queen of England," but we settled on Wild Style Designer in Training, and she will also be our Fashion and Trend Adviser.
ABOUT KARA:  I am 25 years old.  I was born and raised in central Illinois (Heyworth).  I am a recent graduate of Illinois State University, where I studied fashion merchandising, helped produce student fashion shows, and did a travel study in Europe.  I currently manage Six Strings Club in downtown Bloomington, and I love my job and all the unique customers!  I am now the proud (and exhausted) mother of two 'spirited' dogs…Betsey (a very loyal and VERY loving pit bull-mix) and Stella (a very curious Great Dane who seemed to never outgrow her puppy stage).  I am an avid sports fan who supports the Bloomington Blaze hockey team, which my fiance has played on during his professional career…But I am an even bigger Chicago Bears fan!  I am best knows for my extensive shoe collection.  I have a passion for fashion, I love to dance (which I have been doing since the age of 5), and I enjoy anything creative.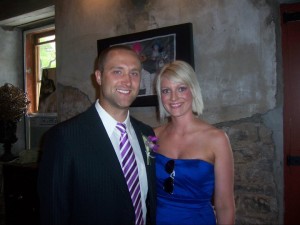 HOW DID YOU COME TO WILD STYLE:  I joined the Wild Style team of designers just recently.  I have watched my sister and mother develop their skills in facepainting for years, and I have seen how happy it has made them to use their creativity and outgoing personalities to put a smile on other people's faces…I couldn't resist and have recently jumped on the bandwagon!
WHAT MAKES YOU A SPECIALIST IN YOUR AREA OF EXPERTISE:  To begin with, I have over six years experience in customer service through retail and service experience. I believe I am an expert because I have always been so passionate about trends and fashions in all areas of the world.  I have studied fashion (including textiles, colors, trends, merchandising, history, patters, and much more) throughout college and abroad – and I continue to do so.  I have a constant drive to be creative and work with my hands.  These qualities combined with my love of people makes me an ideal person for the job!
WHAT ARE YOU LOOKING FORWARD TO THE MOST IN THIS FIELD:  I am most looking forward to learning a new art form, developing my skills, and meeting all kinds of new people.
FAVORITE COLOR:  Blue…any shade
FAVORITE DESIGN:  Zebra…anything with animal print!
FAVORITE SONG TO DESIGN TO:  Anything up beat that I can dance and move to
FAVORITE QUOTE:  We lose ourselves in the things we love.  We find ourselves there, also.  –Kristin Martz
WHO OR WHAT INSPIRES YOU:  My friends and family.  My funny and unique nieces and nephew.  My wonderful fiance.  Anything I find quirky or different such as a pattern, a color, an outfit….anything!  Music really inspires me and can set or change the mood.  I am also a huge history buff….the past and my ancestry inspires me as well.