We had an incredible weekend out and about in Central Illinois this week, and are already beginning our "weekend" of painting on Wednesday this week. Wild Style will be set up by the concession stand behind the grand stands at the Farmer City Raceway Wednesday night. We will be ready to start painting by 6 pm (hopefully earlier). Our crew will be three-strong, with co-owners Kristi and Shelly on site, as well as the premier of our Tribal and Graffiti specialist, JP. You will love him! At the races this week (Wednesday AND Friday – weather providing, of course) we will be featuring:
Face Painting for children and adults
Insane Tribal "Tats"
Bad and Bold Body Graffiti – Pick your favorite car number, or let us create a custom piece just for you!
Check out their site for more details on the evening, it sounds like a pretty "big-time" race for Central, IL – and we are so excited to be a part of it! Designs will start at $5 for the evening…
http://www.farmercityracing.com
Last weekend was bananas, our designers were ALL over the place. We were able to paint for the 2PC Mission Group Sale at the Interstate center to help raise funds for the youth choir… Check out their website and a pic or two from the event:
From there, we spent a bit of time painting at the pre-show for The Gamma Phi circus at Redbird Area. Thanks so much to the Student Alumni Association for hosting us, you were so helpful, organized, and accommodating! And, by the way – I HIGHLY recommend the circus to anyone! It was captivating!
http://gammaphicircus.illinoisstate.edu/
We rounded out our Saturday with an amazing dinner and wonderful benefit for a really unique cause that we had no idea even existed. We painted at Hope in a Hanger for the local Lifeline Pilots' fundraiser. These retired pilots volunteer their time and resources to fly people in need… What a worth cause! We had a blast, painting quite a few cuties… and a lot of adults too! Thanks, Shelly, and thank you Lifeline Pilots for inviting us, it was a pleasure.
http://www.lifelinepilots.org/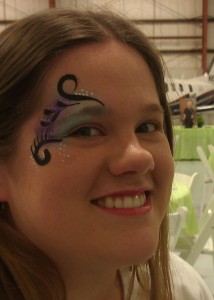 …and here is a pic of a blinged-out necklace on the lovely Jenn Smith, a fellow Heyworth Alum, and the MC for the evening…
The weekend came to a close with a private birthday party full of ADORABLE little kiddos, and a four hour stretch at Shop for Hope and a Cure in Bloomington at the Double Tree Hotel. We were able to raise $97 for Team Owen painting our famous graffiti-style awareness ribbons.
Stay tuned for an update (and hopefully some great pictures) from Wednesday's race. We will also let you know where to find us this coming weekend… Looks like our designers will log over 30 hours out and about in the next five days! It's getting exciting around here!