At Wild Style, we can't HELP but be excited, humbled, inspired, and completely DRIVEN by all that has happened over the past months! What a blessing it has been to have our company and our designers featured at Festivals, Fairs, Corporate Events, and Private Gatherings across the great State of Illinois! Never, in our Wildest dreams, would we have imagined a first year like this for our company. We have had the freedom to support worthy causes, the inspiration to expand our artistic range, and the privilege of building new and lasting relationships with clients and customers alike!
We are approaching the busiest month of a Face Painter's year, and we are ending September on a high note with some of our favorite events! We can't figure out what is most exciting – what all we have in store for the coming weeks… or the changes and updates that will be coming for next year! Here are some great locations you can find us at this coming weekend…
We Care Twin Cities Half Marathon
WSDC is so excited to be sponsoring this event. We have painted Dan, the brains behind the operation, as he rode the pace bike for the Susan B. Komen Race. And now, we can be found at Friday's Expo where the painting is complimentary. (We can also be found on the back of the oh-so-cool race shirts that will go to the over 500 participants!) Wild Style MAY actually have to make an early morning appearance Saturday as well, so keep your eyes peeled! Here is more information about the Expo and the Races, kicking off at Eastview Christian Church:
http://www.facebook.com/WeCareTwinCitiesHalfMarathon
http://www.ecologyactioncenter.org/wctcm/
Pekin Haunt
Looking for a uniquely haunting experience? Then look no further! This is one of the most unique, exciting, interactive Halloween experiences in the area! Pekin Paintball Park is hosting Pekin Haunt every Friday and Saturday night starting the last weekend of September and running through October. Imagine this: Riding on the custom, double-decker, battle wagon, armed to the hilt with a loaded paintball gun… Then being driven through the park where you get to unload on LIVE ZOMBIES! Do I have your attention yet? Check out the links below for more info. WSDC will be there every night, painting the zombies, then the patrons as well… we will be joined by a few radio stations and plenty of fun for all!
http://www.facebook.com/PekinHaunt
(I would include some spooky pics of our work, but I don't want to spoil the fun!)
Apple and Pork Festival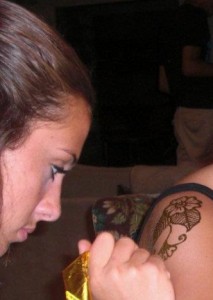 Since 1968, the Apple and Pork Festial in Clinton Illinois, has ushered in Autumn for DeWitt County and it's visitors. As a member of Clinton's Chamber of Commerce, and long-time attenders, we are thrilled to be a part this year. You can find our Founders, Designers, and Specialists along Center Street located conveniently for your custom artwork. Prices start as low as $3 and we can't wait to see all of our friends! We will have enough space for henna and face painting/body art, so don't forget to stop! Remember to keep an eye out for our signature blue and green zebra print signage – you can't miss it!
http://www.chmoorehomestead.org/apple-pork.htm
Superhero Saturday
This event is produced by the Junior League of Peoria, and promises a great time! There is more entertainment than possible packed into the Finish Line Ford Building on Pioneer Parkway. Costumes are welcomed and encouraged, face painting is top-notch, and with Bounce Houses by M & K, Peoria Playhouse, Peoria Zoo, Wildlife Prairie Park, and tons of superheros (service men and women) from local fire stations and more – there is more to experience than you even hoped for! The Junior League always produces top-notch events, and this one is no exception! Check out the link for more details on this unique experience!
http://www.facebook.com/SuperheroSaturday
http://www.juniorleagueofpeoria.org/