This weekend brings a change of pace for the company, and we are so excited about it! Besides our private events around town, there are a few fun places you adults can get body art this weekend, and we are so excited to be featured at the following events:

Pekin Main Street Presents: Main Street Super Cruise Bike Show Friday 5-11pm and Saturday 1-9 pm
http://www.pekinmainstreet.com/indexCruise.html
Bring your bikes, your kiddos, and your friends! Wild Style Design Co. will be offering Henna Tattoos, face painting, "blinged-out" diva designs, and cutting edge tribals and body graffiti! Find us at the entrance across in front of the beer garden and Main Stage as we offer designs that guarantee to kick the eighth year of this event up a notch! Prices begin at $3… JP will be running the show this weekend with his custom work, and Parisa, our Henna Expert, and both owners will be joining throughout the weekend.
*** Kristi will also be featured in the Kids' tent 3-6 pm Saturday where the children's wild masks will be free to the patrons, thanks to the sponsoring organizations! There will also be inflatables, rides, games, and a balloon artist from The Unique Twist, the BEST around in our opinion!
http://theuniquetwist.com/index.html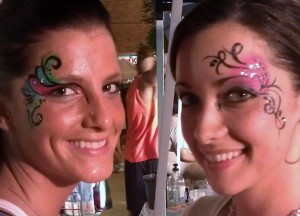 Six Strings Club Summer Pub Crawl
http://sixstringsclub.com/home.html
Saturday 7 pm-11 pm Our Co-Founders will bring Six Strings our Diva designs and custom tribals that everyone loves so much! We are just working for tips tonight, so come on out for your custom "bling!"
Also, looking ahead… Festival of Faith at BCPA for St. Johns Church is coming up August 19th, and we are getting so excited!
http://www.stjohnsbloomington.org/
Members of our Company have worked with St. Johns for their unique Festival of Faith Service at BCPA, and will join the members in the ballroom afterwards for food, fun, and of course, face painting!
So excited about our weekend, and can't wait to see who we will meet!