Over the course of the past (almost) three months since our business launched, we have been completely bowled over by the reception of our friends and fans. Each of you has literally made this dream a reality beyond all expectations for us. Each face we paint, each adult we design, each person we henna – they are all a special connection for us. There is one community, in particular, that has really rolled out the red carpet for Wild Style Design Company lately. Mahomet. This is a place near and dear to Shelly's heart, as she had painted for them for years, and they surprised us by enthusiastically coming aboard with Wild Style – and we have had the honor to visit SEVERAL times since… with many more gigs scheduled in the area. We just want to say a very heart-felt "thank you" to people like Liz, Dr. Walk Chiropractic, Fisher National Bank, Steppin' Out, Creature Comforts, Pretty in Pink, and the many other places we will be in 2012 – and hopefully for years to come!
We are headed once again to Mahomet tonight for a night of fun and pampering by the Chamber-produced "Steppin' Out," an annual Ladies Night that draws a huge crowd! You will also find us in Mahomet twice more in May at the Coffee House and Creature Comforts! We can't wait to see you all!
Let us leave you with some pics of our favorite work from this past weekend…
Thanks again to Dan and Six Strings for their continued support and hospitality. We Love Six Strings!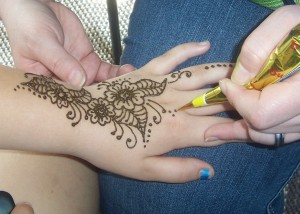 Thanks again to the people and patrons of Towanda's Festival on the Red Carpet Corridor for your warm welcome and excitement for our Henna Designs…
And finally, thanks one more time to K9 Underground Fencing for your sponsorship at the Youth and Family Services Picnic at Miller Park – We look forward to a long partnership with you!