Hi Friends!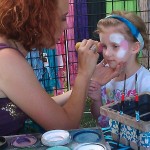 I know it has been forever since a really great post. We didn't expect to get so busy! Right now, we are in the calm before the storm, so I thought I would take a few minutes to share some pics of our work over the past few weeks… Our team is coming together beautifully, and we are so excited as we move deep into the Summer months, about the places we have the opportunity to be!
Lauren is such a great balance of talent, speed, and personality. Here is a super cute shot of her at work. You can find Lauren all over this summer, from Fairs and Festivals to private events, you will LOVE her when you meet her!
And here are a few of her finished products!
Parisa has been out and about in Central Illinois as well, and she is such a joy to observe. Her precision and tons of happy customers is so exciting to see! Here is a picture of our Henna Specialist in deep concentration as she works. Remember, Parisa (and our other Henna Tat Designers) is available to guest in Salons and for in-home parties, as well as corporate events. Contact us now to book this special artist!
And here is the three-step process of the appearance of Henna Tats. These were taken upon completion, 12 hours, and 24 hours.
JP and Kara have also been around town, carving out a spot for themselves on our team. They have both proven to have quite a bit of talent to lend to Wild Style. JP's tribal creations are so unique, and Kara has such an outstanding way with children! Here are a few pics of their work, seen at Barnes and Noble and festivals across the area.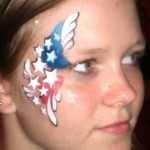 Our Co-founders have been a part of all the company has done over the past several months as we have gotten up and running. We dropped in a picture from our work on the River Front this past week, as we were some of the featured entertainment at the very prestigious Fourth of July Celebration at the Embassy Suites in Peoria.  Here are some pictures of our favorite Diva Designs and Wild Masks over the past few weeks!
We will check back in a day or two with a schedule update. Hope everyone is enjoying the beautiful weather! We know we are!