Well, I know I say it every week – BUT, The Wild Bunch had another OUTSTANDING weekend! Shelly spent her weekend at more private events which we LOVE to do, by the way. There is something so personal about the chance to really connect with our customers at small birthdays and the time spent at the Girl Scout Camp!
In a much more public arena, Kristi and JP were featured at events like the Missfits latest derby and the Farmer City Raceway to name a few. If you happened to make the Roller Derby, you may have been one of the first to catch a sneak peek of our latest collaborative design with our great friends, The Glitter Fairies. Central Illinois has never seen anything like it, and talk about a hit! Look for festivals that BOTH companies are at, and you can get a unique "Wild Fairy" (or dragon or skull) as well! Check out their site, they are inspiring women and we LOVE to work with them!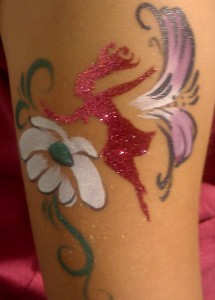 Let me just cover my bases here… This is a picture (just ONE example) of a collaborative work of The Glitter Fairy and Wild Style Design Company's "Wild Bunch." They are called "Wild Fairies" to include the names of both companies. We are the ONLY collaborating companies offering this in the area… and perhaps  beyond that even! These designs are two-step, and run the same price as our premium faces and Diva Designs! Hope to see you out and about soon for your first "Wild Fairy!" Remember – Wild Fairies are a Wild Bunch/TGF original – and we can't wait to design one for you!
Hope everyone's day is amazing – Stay tuned for a little blurb about our first ragingly successful Fine Arts Day in Forrest!