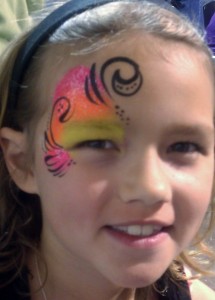 Yesterday was a company "first" for our owners, and was completely invigorating! Shelly and Kristi were invited to be featured Artists and Speakers at Fine Arts Day in Forrest, IL at Prairie Central Upper Elementary School. We would LOVE to do it again, and have a killer "two-for" rate exclusively for this type of event – so pass our info on to your kids' schools, we would LOVE to come out!
Working as a team, we spent time with eight different classes individually. This means we were able to talk to about 200 fifth and sixth graders and their teachers and aids about the reality of turning an art into a business. We taught them about our company name, it's origin, and our style – the importance of skill and quality tools – the reality of the time/physical/financial investment – and finally got to have some fun painting!
Each class was AMAZING! The kids were eager and enthusiastic, begging us to make appearances at their favorite events. The teachers were supportive and curious… and some of the math-wiz kiddos out there even helped us crunch some numbers.
This was one of those events that I call "Life-giving" that we just walk away from feeling completely invigorated! What an honor to be welcomed and be able to share such a love with others!
Thanks so much, Jannan, and the rest of the staff and students at Prairie Central Upper Elem. We truly had the best time, and can't wait until next year!