So…
When you hear the words "face painting" what do you think? Years ago, those words used to conjure up mental images of cracked craft paint on children's cheeks. But the industry has changed quite a bit since then, and from the best to the worst, MOST self-proclaimed "face painters" ARE using the right stuff. FDA approved children's face paint, cosmetic-grade products, etc… and lucky for our customers, most working face painters are insured as well, and offer the benefit of working quite quickly – just like all of our Designers.
Especially in Central, IL, the general public has come to expect partial to full animal masks on cute little kids when they hear the term "face painter" these days. In part,due to the high demand in this area for the artform – and also because training and popularity are nation-wide.
When Wild Style Design Company was forming, we knew that children's face painting (like our wild masks and mini masks) would be a crucial part of our business – and were completely necessary to operate a successful company in this industry. HOWEVER, we also felt completely passionate as a team about offering this area some options that were new, fresh, and different. After seeing the "same old thing" for YEARS on end, and we had an inkling that this amazing group of people in our area who appreciate art and creativity, would LOVE to see something fresh and new… Enter: The Wild Bunch!
We like to say we offer a FRESH take on an OLD favorite… What does that mean you ask?
Well, in the world of Children's Masks, than means new, exciting options the area has never seen. It also means that the "old favorites" are still available with our company, they are just executed in a more precise, graphic style – which really sets our Designers' work apart from the rest! We are always complimented on the "Flow" and "artistry" of our designs. This is very deliberate, and we appreciate the way you recognize our work, our attention to impeccable  execution of basics, and the way we engage with your children. We are so thankful for the opportunity to be welcomed and wanted, and to paint these sweet faces, that we always do the best we can, and train our painters more thoroughly then ever before! Could we go faster? Yep! Will we? Nope! Wild Style firmly believes (for us anyway) that there is a certain speed that we want to stay under, so as not to sacrifice quality and that "face time" with each little one…  We will never cease to amaze with the number of children we can paint (up to 30 an hour), but would much rather impress you with the fresh take we bring to the industry when you see the finished product!
Now, this is where we get to tell you about the new stuff! There is a whole new world of professional cosmetics and body art that Wild Style is literally blazing a trail into… You see, adults love our artistry as well, so it was very important to reach this market in a BRAND NEW way!
Wild Style Design Company has completely opened up the market to adults, offering our highly-trained, extremely gifted Henna artists, a professional Tribal and Graffiti Specialist with a team of trained designers, and our SOOOO popular Ladies Diva Designs that are all the rage! Now, we knew featuring these art forms would be a complete hit, but we had NO IDEA we would be kept JUST as busy Designing for adults as we do for the kiddos. Our designer paint just as many adults as we do kids at sporting events, festivals, and expos – amazing the public with the beauty and artistry of our creations for adults! With our calendar already filling up into Spring of 2013, NOW is the time to book your adult (or children's) event for any type of celebration that you would like to "kick up a notch!"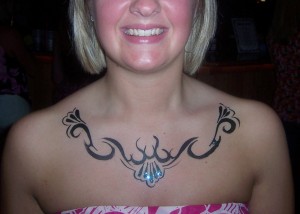 Let me give you a few ideas of where our designers have been used in the past:
Ladies Expos and Pampering Events, Girls' Night Out (Diva Designs before a night out on the town), Ladies Nights IN (think Henna), Bike Rallies, Fund Raising Galas and Dinners…
Bachelor or Bachelorette Parties, Wedding Showers and Baby Showers, Company or Church Picnics…
Restaurant or Club openings or special events, corporate re-openings or Grand Openings…
Send off parties, Engagement Celebrations, booth entertainment at Fairs and Festivals to draw a crowd…
Sweet 16, 21st Birthday, Graduation, or "Golden Birthday" celebration (Remember, we CUSTOMIZE)
Or Hire WSDC to make a SPLASH at your summer barbecue, Holiday Celebration, or backyard birthdays!
Hopefully you now have TONS of new ideas and new reasons to celebrate. We can't WAIT to hear from you so we can bring  SMILES to your next event!